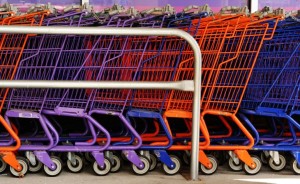 Online Shopping is going to some day or the other day replace the existence of shopping and will be the only source where in people will buy from. Online shopping are must have apps if you are crazy being in love with shopping online. Blackberry with not much handful of apps like its counterparts Iphone and Android giving basic options to shop online. I am actually still hunting for some app which without any affinity to a particular Online Shopping portal. Because third party apps are usually unbiased and show the best results from multiple shopping sites for users to select from. Ok so now let see what online shopping apps Blackberry have in it:-
1. Groupon:-
Like its Iphone sister Groupon is a number one choice for those who are looking to shop online with Blackberry phones. Best deals by group purchases are open for Blackberry users also, so those who want best deals on their favorite product can hook on to this app. 200 Cities in US and Canada are buzzing out daily deals on your phone. So select your city and get going, new cities and deals are added on daily basis as reported by group on. Features you will like is deals with the map of the store which is offering deal so you can reach the place. Buy and redeem deals for with your phone. Not to forget it is Free.
2. Ebay:-
Ebay is a well-known reputed brand in India and World over, the best about this app is it gives you an experience similar to browsing on your laptop. You can embed this app with your Blackberry calendar and get pings when the listing is going to end. You can bid or sale an item and can chat with fellow sellers buyers on BBM. This app is easy to install and fulfills every needs as provided by Ebay on your computer.
3. Olx:-
For those who want to sell the products online without being registered as seller and don't want to pay a penny to brokers or sites. Olx is like the best option in the world where you can choose from the huge variety of offers by people like you. So it rightly says where buyer meets seller, but if you are buying a used product online you have to pretty much sure for the product and it recommends to buy products from sellers in your own city. Because chances of non-payment by buyers or non-delivery of product by seller is usually not happens. Coming back to the app these all features will be available for you on app, you can enlist the product for sale. Watch others have in offer for you. Olx has a big advantage of its diversity it is spread in 96 countries and can be read and written in 40 Languages. Free app and must to install for the action of buying and selling online.
4. Newegg Mobile:-
Newegg Mobile is another application which can help you watch the reviews on your phone and helps you buy anything from your phone. The app claims 1.7 Million+ Reviews for the various products so just watch and select the product with best review from fellow buyers. buyers are routed to Newegg Mobile Secured servers for every transaction they are doing. So every transaction is guaranteed secured.
5. Sccope US:-
It stands away from normal Online Shopping apps as it not only helps you get the deals but the transaction is initiated by barcodes so you will not be bothered about the authenticity or quality of the product. If your handset is not supporting Barcode you can put in the code manually for secured transaction. Deals is an add on benefit plus a nice customer support. Another plus is you can put reminders for the price of the product so you can buy it in a price you desired. You will also be pinged for the deals and alerts you set as per your choice.
So here are my 5 Best Online Shopping apps on Blackberry handsets what are your best apps do let us know by comments. If you liked this post do share it on Facebook and Twitter. You can get in touch with me directly for tips advice or help on Contact us Page. I will be happy to reply you with my ideas.
More Read:-
Beat the cold this Winter with Blackberry Apps
Beat the Heat this Summer with Blackberry Apps
Tele-Columnist!