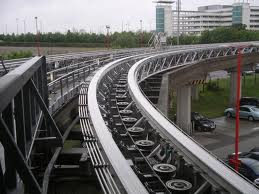 Blogging is all about writing skills of an author with good presentation skills on Blogging sites to present his ideas and experiences with the fellow online Netizens. Now this Blogging is sometimes changed to a career fulltime and people are involved into the websites 24 Hours a day 7 Days a week. So this question is important which needs to be asked from every blogger about Whether Are You on Right Track in Your Blogging Career? Now for this question the answers are many but it arrives at a single point which turns out to be a track. Now few bloggers get away from the niche from which they started from and this happens with below mentioned reasons:-
1. Loosing Track by Reading:- You as Blogger reads a lot of trending topics on and off the topic which means that  you sometimes get provoked to get an off topic post of your own. And sometimes you get so involved with the off topic post that you loose track from Blogging Niche and hence career.
2. Experiment in Writing:-  You were doing fantastic in your blogging career and suddenly you start experimenting with your topics and writing styles and you get off the track of your blogging style and topics.
How Popularity is Important as a Blogger
3. Once Bitten twice fallen off:- One of your post is bitten badly by Search Engine and readers and you got bad comments and reviews about your post online. Also the content was also not upto the mark and hence you are indexed at the last page of the search result. And with the fear of failure you change the niche of your post and style of writing and suddenly you feel a bigger collapse but it is too late to recover now.
How not to be a Spammer in Online World
Not only niche the blogger starts focusing on outer world of blogging that is Marketing, Search Engine Optimization, Forum posting. But the main thing which is content creation is taking a back seat which is harmful as a blogger. Another aspect which can be harmful as a blogger is being over ambitious. All of us in Blogging world can see exceptional growth in one or the other part of life. But it should be understood as a phase of life and could be taken not so seriously and over the head. This blogger starts posting heavily on Facebook/Twitter and many other social sites and hence you are marked spam and like felt thrown away from blogging Online world.
There are many deviation in front of a Blogger while being online but the best bet is on the one who keeps generating new contents on his blog and helps the solutions of the fellow readers. The deviations are as follows:-
1. Monetary- This is the biggest challenge in front of the blogger because he sees people around him getting Lacs of Rupees in a month this makes him an his eager blogging mind become money hunter. And this results in conversion of Content centric Blog changed to Adverts Blog.
2. Successful Bloggers:-  I suggest not to follow power bloggers or those brands which lures and makes you greedy. Confused Right? What I mean to say here is read the power bloggers and brands  for only as a help in your content. Not to get yourself encouraged because there success sometimes put yourself in depression and you loose the track of success of your blog. Blog is all about patience efforts in consistent direction.
3. Time Management– This not only applies to bloggers but also to those who are into business, or service. This time management is important as it not only makes difference in between people and successful people.
Right Track?
Self-analysis of your own self is important for every blogger in his blogging career and it is important to analyse not only self but every aspect of your blog. Right from where you started and where you are right now thus if you do self analysis from beginning it would make sure that you are on the same track from where you started off. As well as it can improve your understanding about your niche pros and cons of it and this self exploration will work as boost in your experience and your strength to spearhead your blogging career ahead.
Questions for You: How you Keep yourself on Right Track in Blogging Career?
Share your views on the topic and your ideas through comments below. Will be eager to hear your success stories.
Tele-Columnist!