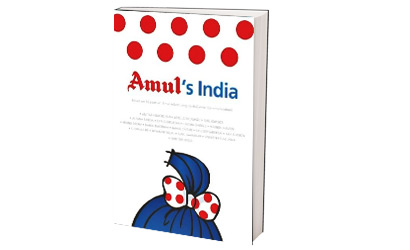 A new Book something which I am looking for so long and got it a week back. Finished reading and started writing about it. I keep this book in my special collection of books you know why because this book is not merely a Book. It is collage of many things:-A. Collage of Risen ones who started from the hill bottoms and made ways to Everest.
B. It is also a collage of contradiction to a popular philosophy which says "People, Object and Time are meant to change"
C. Collage of Broken ones when tied together made themselves UNBREAKABLE.
Outdoor marketing is sometimes now seams outdated as compared to other contemporary means of advertising and also it is a popular thought that marketing/advertising is meant to communicate your product to masses. But some products are made from different ideologies like Amul and Air India are one of them they are the symbols of power of masses (one Made by People, One Made for People). But one difference which make them apart from each other is Amul keep focused on the subjects of mass interest and entangel it in ads. Whereas Air India fall prey to competition lost focus from Mascot (The Maharaja) and Masses. Hence went into losses and on the verge of extinct.
This book shows a journey with various depictions of a innocent girl communicating a serious message on a lighter note. A difference this outdoor advertising campaign other than it is running since 50 Years is Client-Advertising Agency Relationship based on trust and Belief, Second it is much awaited by Every Indian on its way to School, Offices, Shopping, Temple. This little girl makes big comments on So called Politicians, Sports Personalities and other Indian Popular Figures. But also is able to manage the quality of thoughts and Smile on Face of Onlookers. It is very difficult to bring smile in this time but Amul, Dacunha Communications are able to deliver refreshed smile on Every Indian Face with this clever little girl.
This book is collection of Outdoor Ads of Amul Since its inception till this time and also comments from Subjects of the Advertisements and Brains behind the scenes to make these Ads. Despite so much ease in creating, dispatching an Advertisement Online I am sure none of the advertisers may have courage to ask Agencies to change advertisement once every three days. Amul is a Revolution which changed face of Anand in Gujarat and later on India and hence made India World's Largest Milk producing Nation. Purely a cooperative movement meant to empower dairy farmers but not for filling up Pockets of few. This Book Amul's India is a true depiction of India now and then.
Amul Girl danced with us as a citizen both in National Fame and Shame. It Clapped Tightly on Sachin's Century simultaneously slapped Politicos on Scams. Amul Advertising is a Mirror in which every Citizen can see the reflection of Contemporary times Good or Ugly.
To End this Book review this book is a classic collection of India's History of Recent times. So buy it if you want to experience crossroad of memory by-lanes of your Childhood or younger times.
Need some more Kurien's to make India Amulya of World.
Utterly Butterly Delicious….

Tele-Columnist!