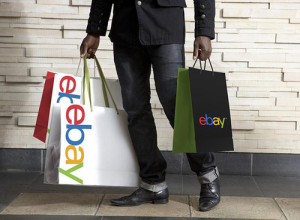 Ebay has appeared as frontrunner in terms of customer satisfaction. Online Shopping was considered unreliable few years back. Customers usually had complains like product displayed doesn't match the product delivered, Product delivery is late or the product is altogether damaged on delivery. Hence Customer ends up either loosing money or chasing up the customer service departments forever. The questions in front of online portals at that period of time were as follows:-
A. Should they have to sell only those products which they themselves manufacture?
B. How to ensure the timely delivery of the product and that too in right shape?
C. How to solve the complains in a timely manner with satisfaction of both seller and customer?
At that time market sentiments says that Whoever gets the right answers to these three questions will be Market Leader. Ebay got it right how read ahead…
Ebay found answers to these three questions and that is why it has reached a stature of market leaders in Online shopping industry. The thought process in management of Ebay was clear from initial days. They are not going to manufacture any product. The reasons are as below:-
A. when company becomes a marketing firm to a manufacturning firm, procurement is always challenged by demand.
B. Challenges of customer satisfaction leads to failure of many megastores opened online.
C. Manufacturing facility plus stirage infrastructure plus wear and tear plus dedicated manpower for customer service of various products, Manufacturing, procurement, marketing is just huge enought to stress upon margins.
D. A single company cannot manufacture everything on this earth untill and unless it has a huge backing of capital expenditure which is a big risk and it is not feasible as demand is always fluctuating.
Ebay came with the solution to let the sellers come to them and they will market the products on website.
Only way to sustain in competition with street market is to give throwaways discounts, segmented and open market marketing and promote customer satisfaction. So we are clear with the first question Let's move to second question now which is to ensure timely and quality delivery of product. Ebay has given a timeline while customer is ordering a product timeline to deliver a product. Plus they devised the paisapay which boosted the moral and belief of customers over Ebay. I consider Ebay to be a bit fortunate as well because these all things were happening in online shopping and Ebay was evolved the Supply chain management has become professional and courier service has quadrupled itself in quality. Along with good courier tie ups the sellers across the country and across globe are getting product delivered timely and right in shape. With paisa pay customers can get the refund to the product purchased if the product is not delivered timely. Also customers can get in touch with sellers directly to check the status of delivery which keeps sellers on toes to send the shipment asap. So question number 2 solved let's see how Ebay came with solution to third question.
Pepsi Lost Ground in Thailand–A Business Learning
Question 3 is very sensitive as it has toppled many online stores over and surely is a backbone of every business-Buyer and Seller Satisfaction. This is basically a sensitive balance if any of the side is heavy the who system will fall. So Ebay came out with a fantastic idea, with every purchase customer has to first release the payment once the product is delivered, plus customer and seller will give feedback to each other. This feedback mechanism has ensured that seller is not cheating customer and also customers not giving right feedback to seller with some wrong intentions. The whole mechanism of feedback is dependent on only two worst case scenarios where Ebay customer care will involve. Number 1 when customer is giving wrong feedback intentionally despite sellers best effort and secondly customer is asking for reversal to the payment already made to the seller. Except these two any other case will have to dealt by buyer and seller in between themselves. Ebay customer service is last resort to any issue. If seller is given bad feedback by quiet few he will be warned/banned from selling through ebay and if customer is not giving the right feedback his feedback weight-age will fall in future transactions. So customer has to ensure his feedback is right and seller has to take care of his feedback for sure.
These two things the feedback system and the paypal has differentiated Ebay from rest all of the other competitors and I hope will be able deliver for future time. How is your experience with Ebay? Do tell us your views on this article or Ebay. If you really liked the post do share it on Facebook and Twitter. You can connect to me directly via Facebook.
Tele-Columnist!