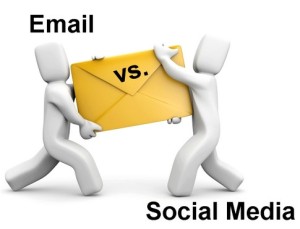 Email marketing is an upcoming term in Online world if we compare it Social media marketing, SMM is quiet old and was implemented in true spirits by many of the bloggers and marketing agencies of that time. Fortunes changed with Social Media marketing but as it is rightly said someone. Excess of anything is bad and this thing happened with SMM as well. Social Media Marketing lost its shine because it was overdone by Social Networking sites as well as Individual and corporate marketers. So an alternative is coming up in place of Social marketing. I am dedicating this post to understand pros and cons of Email Marketing Vs Social Media Marketing. This topic is quiet hot for those experts who still believe there is no replacement of Social Media and some experts say SMM is now wastage of money and focus should be primarily on Email Marketing. Let me show you the pros and cons. And finally to leave you with food for thought.
Email Marketing Vs Social Media Marketing
Pros of Email Marketing:-
The Email could be addressed to person the email is sent, this is considered a more professional manner thus conversion is higher.
The Email marketing has taken its new shape as the companies are marketing their products through Paid Product reviews published in the form of Email Newsletter by established bloggers. The return over investment is better in this format of Email marketing. And also companies get a online brand ambassador without much investment.
Emails usually are more descriptive could be artistic and could be made attractive and crowd puller as compared to other modes.
People are interested in Offers and discounts hence you are automatically targeting to people who are interested in your service. Hence conversion rate will be much higher.
The trust factor with email sender drives people to avail the offer which means better rate of conversion.

Cons of Email Marketing:-
Spam and Scams are two big troubles and hence result in people deleting Email even without reading.
Sometimes the Email promotion delays the impact because people sometimes check mails in 2nd 3rd day or after a week. Which means people are marking mails as read.
Every product couldnot and shouldnot be marketed online. Sensitive health products should not be promoted via Email marketing as it creates negative sentiments sometimes against the brand.
Limited visibility is another trouble with Email marketing as Email marketing mails could be sent only to people who have registered themselves for email promotional offers.
Unsubscription option stops users receiving emails which means as Email Service provider you are not supposed to send emails to people who don't any further email promotions. Hence a hurdle for this set of marketing strategy.
Pros of Email Marketing:-
Investment is lesser in Social media marketing as compared to Email marketing. As competition is high you get customized and discounted service from Social Media partner.
The sensitive advertisements could be put in as people are either don't care if they are not interested and as it is a social forum they don't want to be highlighted for any noise.
Popup and creative rich media texts makes advertising feel more lively hence improves conversion rate.
PPC and CPM choices give versatility for the advertisers as per their pay pocket.
Bid amount also makes advertisers stick to their budget and better control over campaigns.
Cons of Email Marketing:-
Identification of right set of customers is very difficult.
Grabbing attention of people interested in hanging out with friends is much more difficult as usually advertisements turn out to be a blank spot for accustomed eyes of a social networking user.
Limitation of words and art work makes it difficult to make an Advertisement eye catching.
Video advertisements sometimes are felt as intriguing which creates negative impact to customers.
Guarantee of reaching the target audience is lesser as compared to Emails.
Concluding this post What you will prefer for your campaigns Email or Social Media. Email with focused approach is better or cheaper with wider audience social media is an option you would like to bang upon.
Tele-Columnist!