Bread crumb navigation is one of the most popular navigation because the reason is simple. If the reader knows the post he is looking at is located at which section without turning pages. He will develop interest in the section itself, because therein he can find the similar interest content. This navigation also leads reader to easily navigate through the pages and also keeps browsing through the pages of the website simple for the reader and Google to follow through your post. Breadcrumb has got its name from the way of display of the page which is not only unique but is also very user friendly.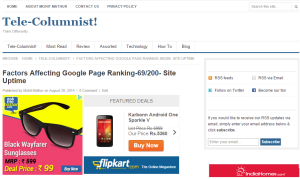 In the above example of screenshot taken from my website it clearly indicates that the browse option helps you visit directly to the main menu or back to the section or the page itself. This indication is taken note by the crawler it helps in raising your website level in terms of search experience. Hence slowly reader keeps coming back to your site to know the latest page update also the way your site is growing. Hence you are building dedicated readers for your blog. Which will eradicate your worry about how to bring readers to your blog. Also when you keep writing in your blog it becomes really important that you have also looked at the round about expectation of the reader. When your reader is ready to browse through every page of your blog it becomes equally important to keep the blog ready as per the requirement and ease of the reader. When your blog grows with the content and page count this navigation technique keeps readers bounce on check and also tips the readers to go through the entire section with similar content topics.
In next post we are going to look at importance of Mobile optimized website and its impact on Google page ranking. Also we will look at why and how you should keep your website be ready with mobile optimized content.
Tele-Columnist!
Incoming search terms: