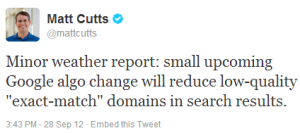 The above screenshot of the Twitter Update indicates the shift of the Google from Exact match domain and as referred by the Matt cutts in the video below there is a shift in stance of Google in Exact Match Domain. This change in stance happened due to webmasters complaining about drop in search ranking for potential keywords when competing with sites holding the exact match of keywords. This is a bit injustice and not as per the Google theory level ground for everyone to compete. In all these changes the importance of exact match domain has not changed so if you are a serialpreneur who based on Google trends and twitter trends buys domain name and sells it as per his choice there is nothing much to worry about. People are still looking for potential keywords first to register before looking for second line of keywords for the domain name. Go ahead an go through the video below and then we will elaborate on the new stance.
As per the above video Google has now leveled the field for both sites with keywords and for the sites who don't have keywords in domain name but have better content and page structure and keyword density. So as per my understanding advantage of those sites who have exact match domain name have better chance of being on the first page of the search result. Despite some change in Algo as declared by Matt Google is still aware and understands that to maintain the importance of keywords and domain names. It is important to keep the pages with exact domain name higher as compared to other domains with similar content quality. For Eg. if someone owns a site name journeytogoa.com has a better chances of coming ahead of the site which is named indiatourist.com but with competitive keyword and content quality. If we see this indicator it is very important for a newbie to buy domain with huge caution and be very selective and patient in finding the domain name with exact match. Today despite changes in Google Ideology it is a fact that people tend to find exact domain name first for registering a domain. In place of a competitive and Branded name like Google, Yahoo, Techcrunch etc. The main focus to be at the top of the search ranking is to generate awesome content but still the importance of Exact domain name will never loose the first mover advantage. Now we will look at the next article which will talk about neither about domains, neither about keywords or any of the Onpage SEO or content. But it will be talking about Registration and a very important factor that is your site WhoIs. Coming back to the post we talked above please share your views on the below mentioned questions:-
1. Do you still prefer to use exact domain name first for registration and share us the reason Why?
2. Exact Domain name should loose its dominance any insight or recommendations on this topic?
If you liked the article idea share it on Facebook, and if you have a new idea to talk about in this blog you can drop in at Contact Us page.
Tele-Columnist!