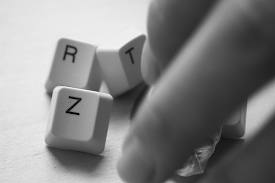 When keywords are detected by Google in the top 100 characters of an article it is considered as relevancy factor and thus ear marks the website to appear at the top of search results. But handling of Keyword prominence is the most sophisticated thing you handle in your website. Because Keyword can land you at the top of search result and as well as makes you being punished by Google for Keyword Stuffing. To mark one more thing Google also looks at how keyword looks in your article is it like appearing as an artificial insertion of a keyword or is coming up naturally in your article. If it is artificially placed in the article body you are going to loose the benefit and result of your effort in placing keyword in your article. Read ahead in the post the solution of balance between how not to be punished and placing your article at the top of search result.
How not to be Punished for Keyword Stuffing:-
1. Write article for yourself:- When you are writing for the web you start putting in those things in the article which is unreal and fall prey to punishment by Google. Start writing for yourself and assume that your Blog is a diary and you have to write for yourself to read the article later on. As much you are clearer to yourself the better will be the article.
2. Top 100 Characters Punishment:- When you try to place the keyword in the top 100 characters either you loose opportunity to bring in front the background and importance of the article in the life of reader or you artificially place your keyword in between the 100 characters and thus loose the impact of top 100 character keyword presence.
3. Make your readers seam comfortable in understanding:- If the understanding is not clear the motive of the article will fail so if you want readers to enjoy the read forget about the keyword and write the article naturally. If you are able to communicate the thoughts in the right way in front of readers you are making your article have better chances to be popular and be at the top of the search result.
4. Reread your Previous posts:- Reread the posts you wrote previously thus you are able to adjudge the capability of the article so if it is lagging behind in this effort you can update it and also be liable to get benefit of historical updates page updates.
5. Plan keywords after you write the post:- When you are done with writing an article you are thereby aware that which keyword it is basically looking at and hence you can mark the keyword for Google to identify.
How to Place your Article at the top of Search Results:-
1. Quality is the key:- Well researched content is appreciated both by search engine and readers write articles to solve the readers problems. Keep content clear and descriptive with your own views this makes your idea authentic.
2. External References:- There is no harm in marking external website articles for readers to refer to, and this establishes the authenticity and make you get backlinks as well. So both ways your article and website is gaining the confidence of readers and valuable backlinks as well.
3. Commenting to comment luv sites addressing similar topics:- Comment on the articles of other website which are addressing similar issues. It gives you valuable backlinks and more insight on the topic you just published.
4. Internal Links:- This makes people more engaged with your content mark internal links which makes readers who are landing on a particular post understand the periphery of the whole idea. Which means a better clarity and getting more love from readers which means a better position in Google.
5. Keywords:- Place your keywords as when and wherever you feel like the natural placement in the whole post. Thus you are probably not making Google mark you at the top 100 characters but if you have keyword present in the article it is itself a relevancy factor and you are not loosing anything here.
Making your content natural and research well on the topic is the best way to appear on the top of the search result. Also if you have keyword in the content and that too in the top 100 characters is an added advantage but it is also a fact that everytime your post structure doesnot allow the placement of keyword at the top. If you are still able to manage the keyword in the content it will not be harmful but look more natural. Now moving to the next topic it is going to talk about Keyword in H2, and H3 Tags, interesting topic on keyword. If you loved this post share your views in here and if you have more ways and any other insights on this topic I will really be happy to discuss.
Tele-Columnist!