Mobile is going to be the next big in the history of the world and the major revolution in mobile came when the industry moved from calls to data and sms. And with the timely advent of Google and Facebook the importance of Mobile grown by many folds. Since people are already hooked upto mobile due to calls and connectivity and with data now available in mobile they are increasing time spent on mobile. Below is a very amazing analysis on Mobile Phones and its usage worldwide:-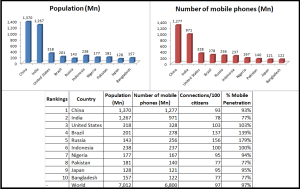 There are few good findings of the analysis like 97% of the population has mobile phone (this figure goes blurred due to multi sim phones phenomenon across the globe). Also 60% of the population is using 57% Mobile phones(this figure is very near to actual stats). Another interesting fact is countries with 90% penetration means have a very high count of multi sim phones. Hence forth the figures seams blurred for developing nations whereas high penetration in developed countries has two factors viz muti sim phone and machine embedded data connections (used for controlling machines, it is a future but many of the organizations in developed nations already implemented them at local level. Eg. GPS tracking system for all the shipping material and vehicles).
Now coming back to the topic in hand Mobile optimization as we have seen advent of mobile across world, Mobile has become really important for every website owner. Mobiles have already set to surpass count of desktops and laptops hence the best mode of browsing through the web for people would be Mobile Phones. Hence also the Google has understood the importance of Mobile optimization and hence brought the mobile optimization as its key page ranking factor. Hence forth only those websites will ride the page ranking which are best optimized  for view via Mobile. It is important to look at the major points mentioned by Google:-
1. Never use softwares which are not optimized to work with Mobile. Eg. Flash.
2. Text on websites should be readable without zooming. Which means best possible experience for Mobile users.
3. Content size should afix at screen in a go hence reader should not have to scroll up and down.
4. Place content and the link distinctly so reader can differentiate.
Mobile friendly test is also made available for the webmasters to analyze if the website suits requirements of a Mobile readers. Hence now we all as webmasters have to develop website as per the requirement of Mobile users along with your desktop and laptop users. In next topic we will be looking at a very strong visual medium of Blogging which has become trend in between the old and new bloggers but little all know about this Visual Super blog called Youtube. So be ready for the next topic with lots of analysis and less known facts and different view points on your very own blog called….
Tele-Columnist!
Incoming search terms:
tele doppler
tele doplet
niche blog ideas
niche ideas for blog
Whatsapp charges on data as MMS
signs of mobile network
marketing concept pillars
top 3 niche for blogger
pillars of the marketing concept
top Hindi songs of 2000