Google+ is a potential Social site which has an additional advantage of backlinks pointing towards your website. But it comes with many added advantage and your presence on this social channel keeps your social clock ticking. And the Google+ authorship when been verified is observed to be the best way you are being believed by Google. So if we are able to deliver the content along with push of the Google+ authorship it is a obvious fact that your blog is getting the right content and the right push from your Google+. Google+ is not only making the traffic be diverted toards your blog but also giving quality backlinks. Google+ combination of traffic and backlinks makes your online efforts complete. Google+ weighed more as compared to Facebook and Twitter and are also being considered more efficient for bloggers to promote there blog. As many a people reaching this social site are interested in reading and writing thus you are addressing an audience looking for a good quality content and the only task in your hand is to make sure you are able to reach upto them. Along with this Verified Google+ authorship also brings your viewers know you with your face and the visibility of yours with your every link in Google search results. When you are doing right pitch of contents and placing them well in your Google+ page your authorship verification makes people know you. Google+ authorship is an important relevance factor as well as an important evaluation factor.
Also the verified Google+ authorship also makes users land up to your about us page and creates a better connect with you as an author. The physical visibility of the blogger is an important turning the table feature of rel factor as discussed by Matt Cutts in the above said video. When you search a page and results are coming with Author Page and without author page it creates a big impact in the mind of the reader. And the believe will obviously be with the link with the verified author.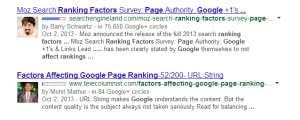 As per the above screenshot the search results whole outlook changes with the author verified page results and the above case is a good example where in the results will be clicked with the Search results and better Google+ connected author. Now moving to the next topic it is about Social Signal and its impact. Keep reading the series Google Page ranking affecting factors and its impact.
Tele-Columnist!