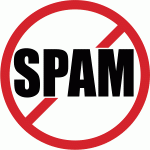 Sometimes when Pageranking fall flat for any website and worried webmasters do analysis and couldn't find no such issues with its website. So webmasters start looking at those things which are not in control of them. Queries like this may crop up
Is your Webhosting company Spammy clients affects Pagerank?
If some of your web hosting's clients are spammy it should not be ideally affecting your page ranking. Ideally Google never seeks IP addresses for identifying Spam sites. Long time back Google used to identify spam sites by the name server ip address. Which was taken down later down as is considered and erroneous methodology to take down spam sites as it takes down even some genuine sites on the same name server. Despite remote chance of getting a punishment due to your But yes there are few things which can be done to ensure that your website doesn't face the setback:-
A. Never host on website free webhosting servers as they are mostly Spammers.
B. Observe ranking of your site closely and any immediate downfall should be addressed so as to avoid any further fall in page rank.
C. If it is identified that your website is falsely been considered as spam you can appeal at webmasters and hence can get the page rank revoked. Do note that only sites which are hit by manual activity (Manual marked as spam) will be considered. Algorithm hit sites need to figure it out by themselves.
D. Only select webhosting based on user experience in various common forums. Never buy hosting from cheap webhosting providers.
This query is also well answered in detail by Mattcutts in below video:-
Spam sites are individually taken care by various Google Algo's hence now such cases are rare as said by Matt Cutts.
As per him in this latest updates of Google Algo's it is a rarest of rare possiblity where in your site is impacted due to spam clients on your hosting providers.
Hence nothing to worry about as said by Matt such cases are rarest of the rare and incase you are hit you can appeal in various platforms of Google. Just to conclude to this topic Have you underwent any such experience with any of your sites. How you dealt with it do let us know via comments. Never forget to share this if you liked the article.
Iv\ yoave anu other kia
Tele-Columnist!