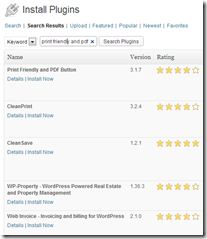 Sometime back we understood how to make Printer and PDF Friendly pages in BlogSpot. In this version of post we are going to understand how to get such pages in your wordpress Website. This is quiet important as it makes your readers take print of your website and even can save your post in hard disk to refer it later on.The Print Friendly & PDF button saves paper and ink when printing or creating a PDF. It's fast, easy, and looks great when printed. A Finest of creations by Print Friendly, this plugin is quiet handy for those who wants to make readers refer their content and also make website Eco Friendly and communicate to readers to not to print but convert the page to PDF and save to hard disk for reference later.
How Print Friendly & PDF Works
The Print Friendly & PDF button automatically creates printer friendly and PDF versions of your pages without the hassle of having to create a print CSS file. No coding, hacking or programming required. Simply install the Print Friendly & PDF plugin, activate, and choose settings for full customization. It also gives your user the ability to remove images and paragraphs of text, so they really only have to print exactly what they want.
Cool Features For You:
Get a Printer Friendly and PDF button for your users.
Fully Customizable! Choose your favourite print and PDF button, use a text link, or use your own graphic.
Get precision placement with easy to change margins, alignment, and pages for your Print and PDF button.
On-Page-Lightbox. Have you noticed that other printer friendly buttons open new windows, or tabs? Not with Print Friendly & PDF button. It opens in a Lightbox so you your users stay on the page, and your wp website.
Professional looking print and PDFs with branded headers.
More repeats and new users. Your brand/URL are printed on the page or saved in the PDF so users remember your site and new users can find you.
Cool Print Features for Users: 45
Optimizes pages for printing and PDF so you save money and the environment.
You can Print or get a PDF.
Edit the page before printing or getting a PDF: remove the images and paragraphs you don't need to save ink!
Localized for 25 Languages
Print Friendly & PDF automatically changes language to match your visitor's language settings. For example, if your browser is set to Spanish, then Print Friendly will use Spanish.
Supported languages:
Danish
German
English
Spanish
Estonian
French
Hebrew
Croatian
Hungarian
Italian
Korean
Lithuanian
Dutch/Netherlands
Polish
Portuguese
Slovak
Slovenian
Serbian
Swedish
Thailand
Turkish
Chinese Simplified
Chinese Traditional
Add the button now, and your users will see the difference.
The options are aplenty in plugins for print friendly and puff friendly website images.
Also is a point considered by Search Engine and hence will improve Page Ranking and a must have for every WordPress User.
Do you use this plugin? let me know your feedback with comments below.
Tele-Columnist!