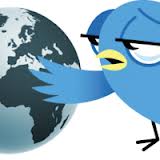 Twitter is one of the most popular social networking platform around the Globe but in India it is not so popular. Few Days back I watched a News discussion on Political Parties Joining Twitter and making it a political battle ground. Recently In Indian Premier League T20 2013 #tags are used to discuss interesting thoughts of viewers during the match. Despite all this I see still in terms of popularity in between Indian masses twitter is much behind Facebook.
Ahead in the post you will read:-
1. Why I am saying Twitter is less popular?
2. How Twitter different from Facebook?
3. Why Twitter is lagging behind?
4. Future Ahead!
Why I am saying Twitter is less popular?

As per Alexa Top 100 sites Globally Facebook is at Number 2 and Twitter is at Number 12 as per Alexa traffic ranking. Further to Active User count of Facebook is 1 Billion+ whereas the Active Users of Twitter is mere 200 Million+ Source Wikipedia. So this is a difference Globally. Whereas if we see Indian Contingent of these websites the story is as follows…as per Alexa in India Facebook ranks @ Number 3 whereas Twitter holds position of Number 13. As per
2. How Twitter different from Facebook?
Twitter is a social platform where users across Globe are reading your text and if you and a hashtag your comment will be visible to everyone globally. The control over users and Do's/Dont's, limitation are lesser in twitter as compared to Facebook. Also the topmost celebs, intellectuals, Business tycoons, political Figures and companies are present in twitter. Whereas such visibility is not there incase of Facebook. Best about Twitter is you are not bothered about what others are writing and vice versa for others. You can block someone who is spamming and even your account could be blocked if other users reports your account as spammer. The look and feel of Twitter is such that you can follow anyone on this earth and believe me it is easier to find that person on twitter as compared to Facebook.
3. Why Twitter is lagging behind?
This question was big till 2012, but with the end of 2012 and beginning of 2013 we can see the results of user statistics where in Twitter is showing 84% growth. This growth have many backgrounds but major of the two are as follows:-
A. Facebook is loosing shine and with many socio-cultural issues as well as few incidents frauds. People are moving away from Facebook and it is advantageous to Twitter.
B. Facebook was always popular as hangout with family friends(too much informal), Whereas Linkedin was completely formal. People were looking for something in between. Twitter is the best option available not at the end of any poles but at equator.
Future is bright for Twitter and a little bleak for Facebook but currently the Global and Indian Standing says, Despite 7 Years of Launch still twitter is lagging behind is due to a single reason. Awareness! was the only issue which is getting eradicated with Print, Online and TV Media Using it extensively. Sooner or later Twitter is going to surpass Facebook in terms of Users and popularity, because Simplicity is the Best Policy. Because Twitter is simpler now as compared to Facebook for the users.
Tele-Columnist!