For building an online estate person has to buy a Domain, buy a Website Hosting and set it up on WordPress. With help of this post I am going to solve all three with a single click. In collaboration with Dreamhost I am offering a Big Discount with solution to all your Online worries. The above said three challenges comes with lots of confusions associated with choosing which service provider to go for, every newbie is in back of his mind surely looks for cheapest option available. But the point which is usually forgotten is whether a cheaper option can fulfills desired SLAs (Service Level Agreements)? Will it be able to accommodate with bandwidth hungry WordPress? Will it be able to overcome ifs and buts of post sale service? Dreamhost is a reliable option to go for.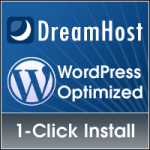 When you use this discount code along with while signing up for hosting also there is one more hidden offer. For Yearly subscription for your website hosting where instead of paying $119.40 you are going to pay $119.40-$50(Discount)= $69.40. So a hefty discount of 41.87% is waiting ahead. Aside to this surprise which awaits ahead is 1 extra FREE lifetime domain registration. The reasons I recommend Dreamhost as I am using the hosting service and there post sale support is awesome. Other than the sale and service my discount coupon will be coming with unlimited bandwidth (WordPress can fit in), Unlimited EMail (Professional Blog or a Organizations website) and Unlimited Users (Multi Author Blogs). And Big news is above mentioned facilities are coming with a Big Fat Discount….
Few Important things which make BIG Difference between hosting providers and services offered by them but is mistaken by newbies in this arena are enlisted for ease of reference:-
1. The Webiste Uptime (99.9% Website uptime for Dreamhost)
2. Support ( Awesome support on email and Phone by Dreamhost)
3. Freebies and discounts (Which you are receiving with code TELECOLUMNIST50).
4. Trial Offer (You can test the service for 2 weeks without a penny and discontinue if you are dissatisfied, which you wont be)
5. Online Support of move from Blogger to WordPress (Excellent and easy to go through steps, the iconic 1-click install makes it cakewalk)
With above said benefits if you want a 2 Year subscription you can surely go with my coupon code as the same discount and offer will be applicable for a 2 year subscription. If you opt for a 2 Year subscription in place of paying $214.80 you have to pay only $214.80-$50(Discount)=$164.80 and big fat 23.27% Discount.
So select this offer and refer people like I am referring the service of Dreamhost to your readers. If you have any doubt or questions about this offer or want to share experiences with Dreamhost please let me know in the comment below.
Update
I am hereby launching a Super Duper Lifetime Offer for my readers. Click here and you will get a full flat 97$ off on Signing up with Dreamhost Webhosting. You have to just put in below mentioned unique code and you will get a jaw dropping 80% Discount which means for 1 Year membership you are paying 22$ in place of 120$.
Please note it is a Maximum Discount offered by Dreamhost and is cheaper than other service providers like Hostgator and Bluehost. Go ahead and Enjoy webhosting and 1 year free domain registration.
Tele-Columnist!