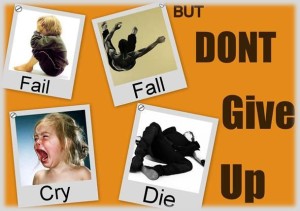 This post is offbeat but is essential for all of us, because sometimes our inspirational torch goes a bit dim and we look around for inspiration. And these quotes are worth inspiring because you read on and you feel within a moment that your inspiration torch has lit up again. So this post is intentionally kept in between just to make sure if any of us is getting demotivated we can look at this article and get ourselves motivated. So this the list of those inspiring thoughts which are motivating us since long. I have kept the number at 31 just to make sure every day of the month is Inspired by a thought.
31 Inspirational Quotes
1. The best way to predict the future is to create it.
2. Winners never quit and quitters never win.
3. Attitude is a little thing that makes a big difference.
4. Biggest motivation is to keep challenging yourself Everyday. Life is a School in which everyday we learn a new lesson.
5. Courage is being afraid but going on somehow
6. It's fine to celebrate success but it is more important to heed the lessons of failure.
7. It takes 20 years to build a reputation and five minutes to ruin it. If you think about it, you'll do things differently.
8. Growth means change and change involves risk, stepping from known to the unknown.
9. You may not have not failed. You have just found 100,000 ways that won't work.
10. Logic can get you from Point A to Point B. But Imagination can take you everywhere.
11. As long as you're going to be thinking anyway, think big.
12. Success is walking from failure to failure with no loss of enthusiasm.
13. Genius is 1% inspiration, and 99% perspiration.
14. Happiest people don't necessarily have the best of everything but they make the most of everything that comes along.
15. The price of success is hard work, dedication and determination that whether we win or lose, we have applied the best of ourselves to the task at hand.
16. If you cannot do great things, do small things in a great way.
17. It is not worth knowing the key to success, but the key to failure is trying please everybody.
18. Success is not what you have, but who you are.
19. To win without risk is to triumph without glory.
20. There is only one success- to be able to spend your life in your own way.
21. Every time you subtract Negativity from your life, You make room for more positive energy.
22. You can change only what people know, not what they do.
23. Rank does not confer privilege or give power. It imposes responsibility.
24. Your biggest enemy is the unknown and assumptions.
25. If you really want the key to success, start by doing the opposite of what everyone else is doing.
26. Management is doing things right; leadership is doing the right things.
27. No great manager or leader ever fell from heaven, its learned not inherited.
28. Don't judge each day by the harvest you reap but by the seeds that you plant.
29. Hope is a Waking Dream.
30. Change your thoughts and you change your world.
31. In order to succeed, your desire for success should be greater than your fear of failure.
I have intentionally removed the name of the personalities who quote these thoughts. Because inspiration is not in the name who quoted the thought but the thought itself. The real acknowledgment to the quote is by imbibing your thought within it. What is your thought of the day, do share your thoughts by comments. If you liked this post do share it on Facebook and Twitter.
Tele-Columnist!