H1, H2, H3, H4 and H5 Tag is an important part of a construction of a post and of this if you are using H1, H2 and H3 Tag in extensive numbers it is nice for SEO. And if you are using WordPress your title is automatically made as H1 Tag, but need to look at one catch. i.e. there are some themes which suppress the default featured so ensure that to check you have H1 Tag is there in each of the post even though H2 and H3 are missing in few of the post. Keyword should be present in H1 Tag and is expected to be improve page ranking as per this study.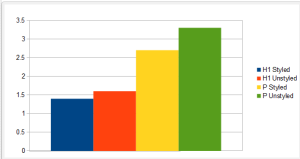 The benefits as discussed in the above said post indicates that if we keep keyword in H1 Styled page will rank higher in page ranking as compared to unstyled H1 Page or non-keyword carrying H1 Tag Post. Whereas when Paragraph is is styled with keyword has a similar experience but with lesser impact. Despite the fact that Google never minds if you use H1 Tag multiple times. But it is always recommended and it looks nicer from the eyes of overall SEO of the page to have Single H1 and Multiple H2s and H3s.
Aside to the debate of number of H1s and H2s and H3s the keyword should not be stuffed in the H1 Tag which is either your title tag or your headline tag. And it is no harm if you are missing the keyword in 1st H1 of the page you can always create a 2nd H1 and put in the keyword there. So for me 2nd H1 has a better utility of carrying my keyword which cannot be placed in my first H1. Second thing which I used to worry about and many a times normal not aware webmaster worries is the placement of the H1 H2 and H3. It is not to worry if you are placing your H1 after H2 or H3 before H2 because in the eye of the search Engine the quality of the content comes first. And second comes the over all layout structure and cleanliness of the website. So if you are worried about whether you are wrongly practicing the placement of H1 H2 and H2 you can refer this video of matt and get your doubts cleared with respect to the place ment of these Tags. Additionally Google sees these tags as the headlines and as rightly said by Matt in the video above that H1 Tag meant for headline and you shouldnot overdo using it more and more. Thus if you have a lot of content to offer with the random placement of H1 H2 H3 Tags and even absence of H2 and H3 search Engine wont mind but prime concern is to have quality of content. Let us know if you are really worried about the keyword appears in your H1 Tag or Not? Is H1 Tag used more than once? What is the order of your Heading Tags? If you liked the post share it with your friends on Facebook and Twitter. In the next article we will see the factor which keeps you worried the keyword density and its impact on your page ranking.
Tele-Columnist!