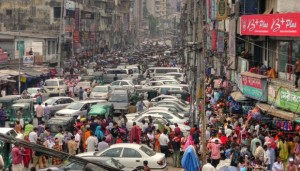 Once upon a time keyword density is considered to be shortcut in being Successful as a Blogger. And many of the Bloggers then used it infact to the extent of misused when was determined by Google to identify the relevance of page and hence the page ranking for that particular keyword. With the updates in its search algorithm the keyword cannot be said as irrelevant for Google, but it should be practiced with extreme caution as keyword stuffing lead your blog to be penalized by Google algorithms. Thus keyword is no doubt an indicator to search engine for the relevance of the page but should only be used as indicator not the only indicator which means artificially injecting the keywords.

There is no recipe of keyword density for ranking number 1 in Google but the keywords should appear but should not be interfering the user experience with your website. As rightly said by Matt in the video above that to ask someones to read your content aloud and thus you can understand that your content is not looking artificial market of keyword. Below are few quick tips for you to make user experience excellent without over stuffing the keywords:-
1. I prefer you reading your content by yourself after writing it, self analysis is the best to get your content right.
2. Second is to make sure you minimal changes to push in the keyword.
3. There is no harm in getting keyword only once in your post.
4. Despite a widely accepted concept which says it is better to keep keyword in the initial para but if it is not possible there is no need to rework the whole post.
5. Keep the post as it is written initially you know the keyword which could be used for this post from the first word of the post so design the post accordingly.
These are the shortcuts to keep your content natural and get the best of keyword density, even as per Matt in the above video Google don't mind if you don't have keyword but if your content is right the website will be ranked number 1 for sure. Believe on the content and your area of expertise the flow will come by itself, keep reading a lot because if you read a lot your ideas of post will increase hence more the content more the traffic and your learn to know how to keep readers engage. Always edit the post as many times as you want because with the time some contents and your new experience should be updated in your website. Create content as per your own choice because your own choice means a better content quality, plus proper keyword selection and also lots of good referrals.
Additional Tip for you is to be critic of yourself compare yourself and hence increase your knowledge only knowledge and expertise can bring out the best content from within yourself. Guide readers to a proper conclusion because if you are not able to conclude on the whole discussion the reader feel himself confused and thus dislike such content. Always conclude the post with the learning what you have learnt or the knowledge you want to share with the world. This increases reader engagement and the people who are scanning your site gets attracted and read your content more carefully. Enhance your keyword placement and try various locations in your content find the best placement and use it in the next upcoming posts. Keep experimenting with the keyword and the keyword density but avoid stuffing it is better to be less focused in keywords rather being punished for keyword stuffing. Now moving to the next topic that we are going to talk about it is related to LSI which is also a much discussed term on web. Lets see what LSI can help us to get better ranking. If you liked the article share it with your friends, you can get in touch with me on Social site to share the content feedback or drop in your content ideas in contact us page.
Tele-Columnist!