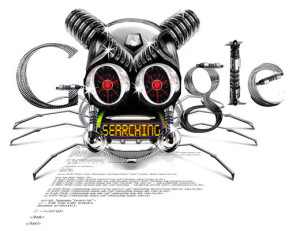 Google bot is such a visitor which every webmaster wants to welcome even if he is not commenting on any of the posts. Contributing nothing to the bank account still its visit makes every webmaster happy. So this thought is the compilation of those ideas which lets this visitor keep coming to your website. Or in other words How to keep Google bot hooked onto your site? This will be really interesting ask for every webmaster. There is no algorithm no codes no magic which can make Google bot keep coming to your website. There is a hard and smart work which can let Google bot and visitors keep searching for your contents and your website. So these are the top 7 ways which can make Google bot build a second home in your website. 🙂
1. Write 10 Posts a Day! But how will this keep Googlebot busy? The frequent new contents coming from your website will inform Googlebot to increase ferquency of visits to your website for crawling new contents.
2. Freshness in content makes people looking for your article and hence will keep Googlebot coming to your website for new content updates.
Why is necessary to keep posting on your Blog
3. Update the old contents frequently, this update will keep Bot coming to recrawl the page for updating the content. This is another way to make Googlebot a busy visitor on your website.
4. Updating Images on all your posts. Sometimes it happens that when we open a post to update it we find the content appropriate in quantity and need of update is not felt. In this case you can add up a relevant image to that post because some old posts may not have eye catching image. By adding a new image Googlebot will have to re-crawl the page. But I recommend to add up some new idea into every post if a post do not have a image at all and you are short of idea further on that post. You can do that but for the sake of updating your page avoid updating it with only image. I am sure every post will have a new update with the change of time
5. Restructure the title of the post, sometimes the article is very nice with nice content and relevant images but the title is not that catchy. Which hence make your article stand behind in the crowd. So change the title of the page it will increase the attraction to your content and will bring in more visitors and bots. Make sure that permalink and the core idea of the post shouldnot change.
6. Comment more on other blog sites as other users from those site may come and visit your site. Probably they may feel your content appealing and hence they drop in a comment or to. Comments are also indexed hence a surety of Googlebot visiting your page.
7. Updating meta tags and over all structure of your blog post. Sometimes in initial days of writing you don't look at structure of the post as well as the SEO of the content. But if you do update all this in your post it is also an invitation for bot to visit your updated page.
The Googlebot is crawling the web at a usual pace, but if you are adding contents which are frequently updated and active site is presented in front of googlebot. It will surely crawl it and as the indexing gets heavy the expectations of readers will ever increase. What I say is write for readers, write for yourself and then write for search engine. Because if you are able to satisfy yourself and the readers with fantastic content there is no reason for any bot or crawler to not highlight your webpage at top of the searches.
Does a smile comes on your face when you see Googlebot visited on your website? If you loved this article don't forget to subscribe to our newsletter for more happenings from our site.
Tele-Columnist!