As you read on expert bloggers like Harsh, Daniel you will find numerous suggestions for your Blog. And these suggestion carry numerous Plugins for a startup Blogger like me, I followed these suggestions but one trouble came in front of me. The trouble was limited bandwidth of my hosting platform. My website went up and down like a boat in a storm. After multiple mail exchange with my hosting partner I understood my most recommended Best WordPress Plugins are sucking shared bandwidth. And once resource utilization goes beyond the threshold limit website trips as resource watch app kills the process. Addition to this Dreamhost suggested me to install P3-Profiler as it gives you and understanding which plugin is eating up resources. So I had two options either to cutdown upon Plugins I loved or to upgrade to dedicated servers. But as per Harsh dedicated servers is a wastage of money for startup Bloggers. So I followed the advice and took up the challenge to say goodbye to my loaded plugins.
I started looking for solutions on Google and learnt many things. Below are few tips on what are the lesser known Substitute of Best WordPress Plugins:-
I had following plugins when I started troubleshooting:-
1. Akismet
2. no self ping
3. social author bio
4. wp dbmanager
5. all in one seo pack
6. quick adsense
7. social media tabs
8. wp mashsocial wigdet
9. contact form 7
10. seo automatic links
11. social popup
12. wp pagenavi
13. feedburner plugin
14. jetpack
15. seo image
16. subscribe to comments
17. wp super cache
18. google sitemap generator
19. keyword statistics
20. smart 404
21. yet another related posts plugin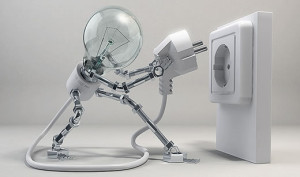 I Divided above plugins into following parts:-
A. To be removed immediately
B. To be substituted by other plugin which use low bandwidth
C. To be Retained
I identified Mashsocial, keyword statistics, Google sitemap generator, feeburner plugin, seo automatic links, seo image, smart 404, quick adsense, Social Popup functionality is either already present in other plugins which are able to other jobs as well or is dealt by WordPress itself or the utility of these plugins is almost zero. I want to mention here that I am not saying these Plugins are scrap but for me they are of not much use. So this paragraph has those plugins which are to be removed immediately.
Substitutes of Best WordPress Plugins
B. I observed few plugins are there which are doing fantastic job but they are eating huge chunk of my resources. I researched and found able substitutes of them which can better do the job and still spare bandwidth for site to perform well.
(i) DB Manager the able Substitute is WP Optimize plugin. The job of DB Manager is to optimize my sites database and let me get rid of those files, tables and processes which are just holding space on server doing nothing. In short Database Optimizer. If you use WP Optimize plugin first is it works on least resources. Second it shows how much space it has saved on your server. Basically you know how your plugin is saving your space.
(ii)All in one seo's more able substitute is Yoast WordPress SEO. Yoast is undoubtedly above All in one and the GUI plus the jobs performed by this lone plugin made me remove many plugins mentioned in A. Yoast is recommended by prominent blogs like Mashable, Dailyblogtips.
(iii) YARPP (Yet Another Related Post Plugin) was one of those plugins which took maximum of my CPU resource. So I have to research a lot about which could be an alternative which can meet level of YARPP functionality. And here I found Efficient Related Post Plugin
C. I settled back with these plugins as these are neither taking my resources for a ride and I couldn't find someone who does better job than them. For sure in future if I find some better option I will put them in Point B.
No Self Ping, Social Author Bio, Akismet, Contact Form 7, Subscribe to comments
Thank you Daniel and Vlatko for this excellent reference guide post for making your WordPress site sky rocket speed. Do read this post on more optimization techniques.
Tele-Columnist!