I am a busy blogger and I am sure you may have the same trouble like mine to manage time and to work effectively within a particular timelines. Timelines distracts and person cannot use the time at its best. There are many online solutions which can manage time for you and the clock timer in front of you reminds you of other things to do. In last article about How to Write 10 Posts a Day I missed to give a tip on time management. But first lets understand why we must to manage time.
Why Time Management?
There are many activities that we need to do in a day some are once in a while and some are daily activities. Sometimes few activities disturbs the day schedule as we get over involved into them and we missed monitoring the clock and somehow we are bitten by both clock and the boss for missing time lines. But if we have something in front of our eyes which can keep reminding you of completing the task in hand in a designated time. So as to focus on other jobs in hand then it will be really beneficial.
How I do Time Management?
Cut the daily routine into multiple tasks and allot a particular time to a particular task. Come what may the time will not change say if I need to invest an hour in forums and I have to make 10 answer posts and 10 question posts in that time. I will quit the forum with in an hour whatever be the count of posts or if the people are queuing questions in front of me. So how to get to work without loosing time, it happens sometimes that you are involved so much in an activity that the time invested in it couldn't be compensated in a day and your other works are affected. So I have a clock timer app in hand in my chrome browser which can be set with a particular time and once the countdown is up it starts ringing bell. So now I have to change the task some how.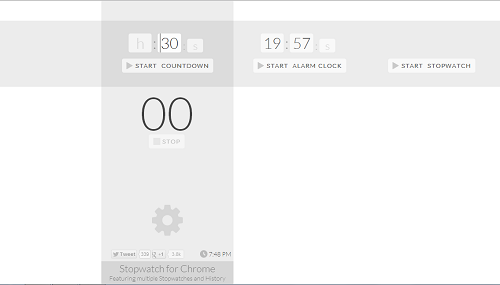 Why to use timer?
It is not bounding you or your day to day activities and helps you in tracking your day without much complications. You are not driven by apps but your are actually driving your time management by yourself. It is not binding you to do a job at a particular time but it is informing that the time to be spent in performing a task is over. Over a period slowly you will start tracking your time and the dependency on apps for managing your time is lesser.
This timer also comes with a alarm clock as well and it can help you rise early in the morning or can remind you of a task. The timer is simple but how you can use it as a time management tool depends on your use. One use I told about the stop watch and other utility of alarm clock is as below:-
How alarm can help you remind of your jobs?
When ever alarm bell rings keep a habit to open your daily schedule diary I always prefer to write it of my own than keeping it online to be less distracted while working online as over dependency on apps leads to time mismanagement later on. I believe in keeping track of time and the tasks in hand in my hands to make sure it becomes a habit later on and I am not depend on anything.
What are your tips to manage time? How you save yourself from various online distractions? Do you believe in mixing online and offline time management tool as I have shown the example above? Do let us know by comments above
If you liked this article share your love to it by sharing it on Facebook, Twitter and Google Plus.You can connect with me on any of the above said social networking platforms.
Tele-Columnist!