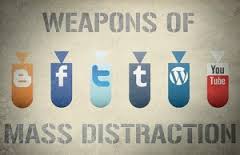 When you are writing the focus while writing and smooth flow of ideas is important otherwise English is such a language in which your Intent sometimes changes with a word or even a comma, hyphen or full stop. In this post I am not going to teach how to write English properly or how to Yoga for enhancing focus and concentration. But to keep distractions the below said top 10 distractions away while you are writing on your blog. Usually we fall prey to these things and I believe they are routine for all of us. But still if you want a constant flow of thoughts and effective content do keep these distractions away while writing. Because people are reading your content they are not evaluating you whether your site is beautiful, your ads are clean and clear, Your color selection is nice. These are the external features of your blog but the main thing which human eyes are looking for is content. What you are expert about.
Distractions of A Blogger
1. Over Emphasized Presentation Skills
Presentation is quiet important in this world of showbiz but alongside your showbiz what matters for people on the
other side of the screen is the content what you are writing about. Sometimes over emphasis on presentation skills distracts the core idea of Post, Which pulls off the reader from your blog. Write your raw work in a flow which maintains the consistency of the post. Because writing a post in portions either break consistency of the post or display two different meanings because your thought process is changed due to distraction.
2. Niche Stuffing
You may have read much about keyword stuffing but today I am coining this term called Niche Stuffing. Ask yourself
are you a machine? Or Can you Eat Pizza three times a Day? If not How can you think and write about same topic year on year. Try experimenting with new ideas Like I have Assorted section which ensures that when my readers are bored with Blogs, Telecom, SEO, How To and Technology posts they can change track by hopping on to my Assorted section to refresh. They can visit this section to rejuvenate themselves. Don't worry about niche so much as the niche is not about making your readers and your website flooded with a particular topic area.
3. Ultraclean and arranged Workstation

Bloggers from the initial days are focused and least interested in the messy people. Sometimes clean work table with a beautiful Pen-stand beside your favorite magazine and Newspaper with hottest political debate in town will distract you from your main task in hand.
Writing a quality post.
4. Stretching Post to 1000-1500-2000 words
It is usually seen even with established bloggers some posts felt like dragging themselves to a nowhere. I am not asking you to write thin contents as it may attract a Google penalty to your website. But I do recommend and even Google says that content above 300 words is a deliverable. It is for those writers who believe write long posts as the but end up either goofing up the whole idea, or make it so dragging for readers to read on they will close frustrated and will never visit your website again.
There is a fantastic Video of Matt Cutts from Google which talks about the balance between content and link building.
5. Back-link building
I continue from where Matt has left in the above video on balance between content or links. You are writing a post but want to put in lots and lots of links in it. Avoid link stuffing else your website will look as link farm and will result in Google Penalty. Sometimes we involve ourselves so much in making out links for our post so other prominent websites are connected to your site that it results in a loss for the content that you have to put on. Re read your whole Raw post and along with punctuation, grammar and presentation put in the link.
Lesser back/outbound-linking wont hurt your site as much as the thin/lower quality content can do.
6. Email Pings
Keep your Gmail/Yahoomail/Outlooks logged off while writing the content as these mails work only as distractions. All these mail clients when kept open shows number of unread mails. It keep tempting the user to open up and check what it says. Outlook is even has complete devastating feature where in which shows a glimpse of mail on whichever page you are writing. Strict No-No while you are writing.
7. Yahoo Messenger, Gtalk, MSN Messenger other IMs
Messenger is a strict no if you are writing and are focused for writing a killer articles. I always log off my Messengers before I start working on my Blog. The pings appearing from your friends will distract you and affects quality of the post. So hanging out with friends time should not be mixed with serious business like Blogging. If you see the other side of the coin even you wont be able to spend quality time with your friends. Because half of your mind will be busy writing the content and other half is busy talking to friends.
8. Movies/Music in Laptop
Usually music is consider as a moral booster if you are feeling down or a big refresher in the evening. A good comedy movie before sleep can make your whole day's trouble away and can make you refreshed for the next day. But for serious bloggers I recommend not keep music/movies in the laptop/desktop/workstation on which you work upon your website. So it never tempts you to listen to music while writing. Listen to music/watch movies if you are done with writing.
9. Social Networking Sites
Social Networking sites are meant to either spend time chatting with friends sharing videos, photos or promote your blog site. But Social networking should not be done while you are writing. Proper balance between promotion and content is the way to success. So I recommend to keep time an hour-or 2 hour for social networking in a day. So that you don't feel distract in other time of the day.
11 Reasons to Leave Social Networking & Focus on Blogging
10. Mobile Phones
Mobile phones with the advent was the utility but over a period of time it has become addiction. SMS/ Whatsapp chatting has made life more connected to near and dear ones. If you are writing I recommend to either keep your phone in silent mode or to hand it over to others for a while. Because Mobile phones are registered as the biggest distractions while driving and results in maximum accidents. Even your blog has its life if you dont want your website's online reputation go done because you got a wrong number call or you suddenly started chatting on BBM or Whatsapp. I am sure you wont afford to do so.
"Keep your Mobile phones away while driving and Blogging :)"
Hope you must had a great time reading this post. I tried to keep it optimum to make sure it is not either dragged and justifies the Idea of the post as well.
Question for You?

What you feel are the biggest Distractions of a Blogger and how you deal with it? Share your ideas in comments below.
Tele-Columnist!