When WordPress did the first public release on 27th May 2003 (About 10 Years Back) they would have never wondered that this platform for sharing thoughts on web could be as big as it is now. A very interesting graph is visible in Google Trends if you see a comparison between Blogger, Drupal, Sharepoint and WordPress. Drupal is at number 4 in terms of popularity, Microsoft Sharepoint at number 3 in popularity, Blogger at number 2 and WordPress at Number 1. This trend I am referring to because it actually shows where a search term/keyword is popular in terms of Search in Google. This is a clear indicative of usage pattern of users across these prominent Blogging platforms. The WordPress is constantly increasing capturing share from the already weakened other platforms.
Microsoft Sharepoint was launched in Year 2001 but is sitting at number 3 in terms of popularity in between all the four. Drupal was first released in January 2001 and occupies the last spot in search engine popularity. Oldest of all the four is Blogspot by Google launched on 23rd August 1999. So here is the comparison of WordPress with other Blogging platform. There are total 82 Releases till now of WordPress Versions including the latest version 3.5.1 released on 24th January 2013. The next Scheduled release of WordPress Version 3.6 was actually planned for relaese on 29th April 2013. But due to some unforeseen complications it seams delayed by 20th May 2013. The changelogs of all the versions released till date and the planned upcoming versions can be looked in here.
The best thing I liked about wordpress is the codes and designing is done in open platform and whoever wants to volunteer for it could start right away. It is a collaborative effort just like Wikipedia. I got one more very interesting site which looks beautiful and I want you to take a look at it by yourself. This is a WordPress stats link and it shows what is happening live across the Globe on wordpress. How many likes, posts and comments are pushed by the users across world. But this is only about WordPress.com it is not inclusive of people like my website which is on WordPress self hosted.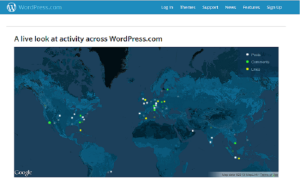 If you have a look at it in various time of a day you see huge variations in the number of times white, green and yellow light blinks. Despite the fact that Blogspot are the Blogging starts den and is more secure for a newbie as compared to wordpress.com. But still i feel that the visiblity which is present in wordpress.com is much more as compared to Blogspot or any other blogging domain. The only reason is the featured article or freshly posted URL brings news from all across wordpress.com blog sites and publish it on this portal. For nebies i recommend to open a free wordpress.com site along with Blogspot and try writing on both of them one by one. But if you keep using both of these sites together WordPress.com can earn you the visibility whereas the Blogspot can brief you of working reworking on your blog and to make it beautiful.
WordPress.org which is a self hosted sister website of wordpress.com has many complex features which can be learnt at blogspot easily without any security vulnerabilities or recovery from goof ups. Once your blog is setup and you have a list of fan following with a decent adsense income you can surely move to wordpress. But before moving to wordpress self hosted you should read this:-
Tele-Columnist!